Connecting Farms to Institutions

NABC provides northwest Washington farmers with the skills and resources required to profitably and efficiently bring their products to market. A growing opportunity is farm-direct sales to institutions.
In response to startling obesity rates among children, an increase of diet-related illness and antibiotic resistance (MRSA epidemic), more hospitals, schools, childcare centers and senior centers –– especially those feeding low-income people in urban areas –– are asking for local farms to bring delicious, healthful and affordable food to their communities.
To serve this growing demand, funders have empowered NABC and partners to implement new and innovative strategies to connect farm to institution like never before.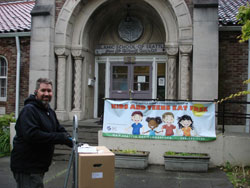 We're always growing our farmer network. Utilizing the NABC Network and the Puget Sound Food Hub, NABC connects farm to institution in the following ways:
Provides facilitation services that open new institutional marketing opportunities for local food producers.
Visits institutional facilities to conduct assessments to identify the most appropriate models for local food procurement given barriers such as kitchen infrastructure, staff capabilities, budgets and more.
Overcomes barriers by identifying "gateway solutions" (products or promotions), and communicate the opportunities to our NABC Network farmers. In this way, we're matchmakers nurturing sales relationships between farmers and buyers.
Aids in purchasing negotiations and logistics and participate in on-going communications with buyers and farmers.
Working Together To Benefit All
NABC doesn't succeed alone. We rely on our funders, sponsors and partners to contribute resources and complimentary services to best ensure that these important projects become standard practices.
Our Partners:
Assist in nutrition education and events at community centers, senior meal services, and clinics.
Assist with training and skill enhancement in meal preparation and recipe and meal planning to seniors, children, caregivers, and patients.
Promote project and importance of local food and direct purchasing through educational events at senior centers, childcare centers, community centers, and clinics.
Expand healthy, local food access to low-income families through Good Food Bag programs.
And more!
Good experience is worth sharing. Contact NABC to learn more about how consulting services can help your farm to institution efforts succeed: info@agbizcenter.org.