Featherman Pro Automatic Picker and Featherman Scalder
For efficient harvest of farm raised poultry.
The equipment can handle birds ranging from 3 to 50 lbs and is limited to around 72 birds/hour depending on size.
The picker and scalder are easily transportable in the back of a small pickup and require minimal clean-up.
Chicken and turkey kill cones, dunker/ shackle combo and a 300 gallon chill tank are also included in the rental.
Featherman PRO Plucker
Capacity: 3 – 50 pounds of birds, optimum 30 pounds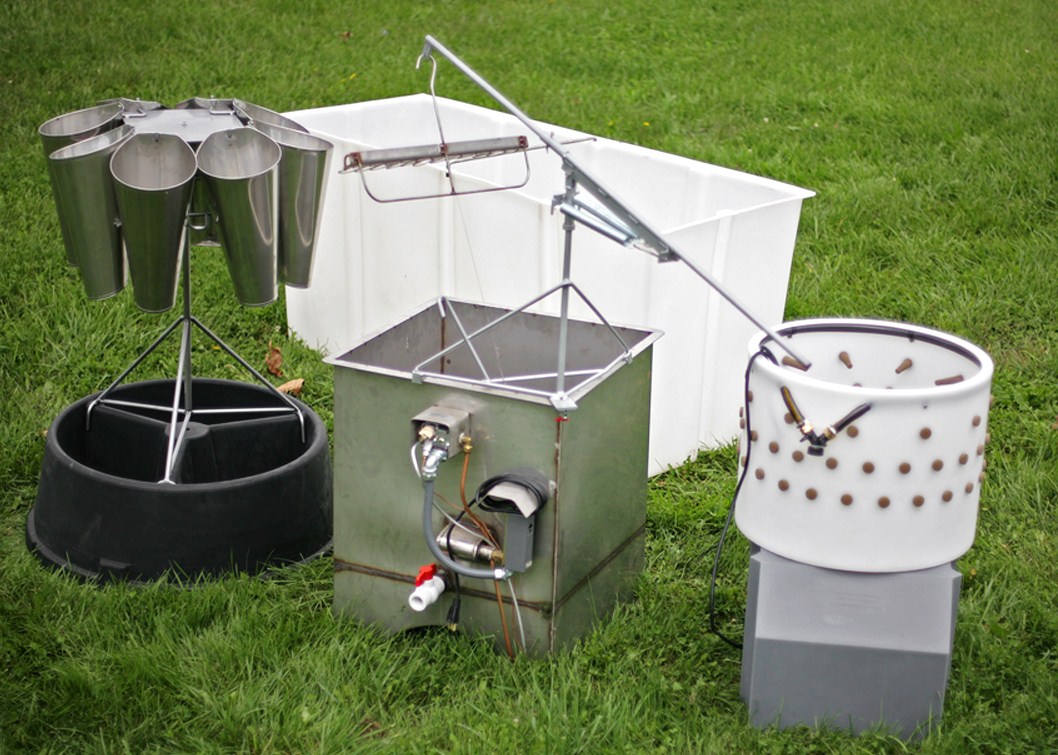 Tub diameter: 22 inches
Height: 36 inches
Footprint: 25 x 28 inches
Weight: 125 lbs.
Motor: 1 hp 115 Volts / 12 amps
Featherman Scalder
Weight: 115 lbs
Dimensions: 34 x 34 x 35 in
Dunker & Shackes
Weight: 16 lbs
Dimensions: 28 x 28 x 10 in

Kill Cones Stand & Base
Weight: 55 lbs
Dimensions: 46 x 37 x 32 in
For more information about the equipment visit Featherman Equipment Company.
Mini-Pack MVS 45 Vacuum Packing System
Vacuum packing extends the life of refrigerated or perishable products by 3-5 times their normal shelf life and eliminates freezer burn. Now available as a separate rental is a commercial grade vacuum packing system ideal for broilers and heritage breed turkeys. It is available for a separate rental fee of $27.05 per day to all farmers in the 5 counties we serve.
The Mini-Pack MVS 45 vacuum packing system is a heavy duty, medium capacity commercial vacuum packer.
The MVS 45 will handle bags up to 17" x 22" and is designed for commercial operations that need a high quality vacuum packer of perishable products. 8" X 12," 12" X 18," and 16" X 20" bags available through NABC
Ideal for packaging meat birds, rabbits, and other food products for personal consumption or sale.
A license is not required to rent this equipment, however, the Washington State Department of Agriculture may require licensing for some commercial food operations - please see WSDA for more information.
Dimensions: 26W"L x 29LW x 20"H. Wt: 176 lbs.
Contact the office for more details.