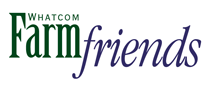 The last six months have been an interesting one for two of NABC's most valued collaborators. During this period two leading nonprofit organizations, Whatcom County Agriculture Protection Committee and Farm Friends have engaged in a strategic planning process to clarify their missions and refocus their efforts in light of their more than 22 years of combined service. Effective immediately, both organizations will begin operations under a new name, Whatcom Farm Friends. Paul Grey, an experienced business leader and most recently CEO of Bellingham-based company Audience Central, is leading a combined board of directors and a full time staff of three.
Whatcom Farm Friends (WFF) brings the best efforts of both organizations under one administrative roof retaining the legal status and advantages of both of the original organizations. WFF will operate with two highly connected but targeted units. Farmers and farm suppliers will be served by a new unit called Farm Friends-Producers, a quasi-trade association charged with working on policy, stewardship and farm business issues. A second operating unit, Farm Friends Community Education, will produce educational and outreach programs directed at individuals and families in Whatcom County.
"We are about saving farms and saving farmers", said Paul Grey. "In addition to the significant economic impact of farming, surveys tell us that Whatcom county residents value the contribution local agriculture makes to our overall quality of life by providing open spaces and a $300 million economy. With the new structure, we can serve both the farmer and the public more efficiently."
WFF is completing its work on the strategic plan this fall with revisions to by-laws and a rebuild of its web site while Grey launches a cross-county speaker's tour to Rotary clubs and other organizations.
David Bauermeister, NABC's Executive Director observed, "We welcome these changes in Whatcom County and look forward to finding ways to combine programs and resources to serve both farmers and consumers better. Paul's perspective and business background have already proven him to be an invaluable contributor to Washington state agriculture."