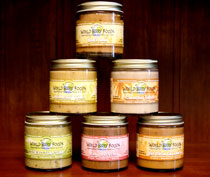 World Baby Food founders physicians Susanna Block and Jonathan Scheffer are an interesting couple. To begin with they are practicing medical doctors; Susanna as a pediatrician with an interest in pediatric obesity, and Jonathan as a family doctor. Secondly, they're not Just husband and wife but business partners with a shared passion for flavorful organic food.
After meeting in Alaska, they traveled the world together exploring cultures and the cuisines of other regions and countries. This experience led them to create Dr. Susanna's World Baby Foods, a growing company that ambitiously seeks to 'promote health, development, and cultural understanding through world cuisine for babies.'

Block and Scheffer first approached NABC in 2006. "When they first contacted us they had some great ideas but hadn't yet formulated their business or marketing plans, nor had they begun to address the issues of sourcing ingredients and product manufacturing." recollected David Bauermeister, NABC's Executive Director. "We've worked with them every step of the way. With six successful products (Baby Borscht, Baby Dal, Lullaby Thai, Que Pasa Calabasa, Sweetie Tahiti, and Tokyo Tum Tum) on grocers' shelves we're continuing to help them to improve production and find more local ingredients."
Admittedly, some of the more exotic World Baby Food product ingredients like bananas aren't typically grown in Washington, even on the 'sunny' side of the state. But much of the fruit and produce they use to make their distinctive baby foods is grown locally. World Baby founders agree with recent scientific studies which show that organic food is actually more flavorful than non organically grown food.
"For World Baby Foods flavor is critical," co-founder Scheffer offered, "The development of the sense of taste is just as important to infants as is the development of other senses like sight and hearing. Americans are keen on providing stimulation to young children with new books or educational toys but fail to offer the most fundamental form of sensory stimulation—more flavorful food. Susanna and I are committed to creating recipes that babies will love. We are convinced that sourcing local foods increases both the safety and flavor our pint-sized customers have come to enjoy."
World Baby Foods are currently carried by Whole Foods, Top Foods and Thriftway, among others. For more information, please see www.worldbabyfoods.com.