The 2007 Focus on Farming IV is fast approaching; a conference jointly coordinated by the Northwest Agriculture Business Center, Snohomish County and King County. This annual event, set for Lynnwood's Convention Center on November 29th, is expected to draw hundreds of farmers and farm-interested folks from around Western Washington. Focus on Farming is the largest event of its kind on the west side of the Cascades.
Among opening sessions, Rep. Rick Larsen, WA will brief attendees on the 2007 Farm Bill and its impact and funding for local agricultural programs.
In the afternoon, conference experts will provide informative sessions on five conference tracks: water, marketing, local/organic, nursery/greenhouse, environment/farming, and risk management.
Water track speakers will cover farm water storage, water and flood issues, and water rights.
The marketing track offers a session with David Rob, General Manager of the Tuscarora (PA) Organic Growers Coop, the oldest and largest organic vegetable cooperative in the U.S. Another session in this track will feature Greg Wilson from Calgary, Alberta's farmer's market.
During a concurrent session, farmers can learn what it takes to become certified "organic". This session will be presented by three of Washington State's organic program field inspectors.
Nursery professionals will find practical information, ranging from labor demographics to finding new markets, and grower, retailer, and customer trends.
Bioenergy technology, bioenergy crops, and on-farm energy will also be covered during the day long meeting.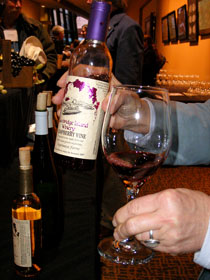 The 2nd annual Focus on Farming Wine & Cheese Tasting will cap the day's proceedings. Local cheese, oysters, wine and other Northwest Washington products will be showcased. Samples will be offered for conference attendees to taste while getting a chance to mingle in a relaxed atmosphere. Beecher's Handmade Cheese will be featured among other gourmet cheese lines.
To keep abreast of conference program developments see the Web site at
www.focusonfarming.org
.