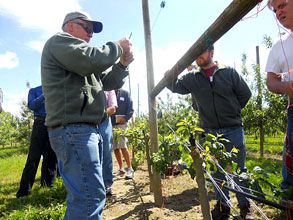 While the popularity of hard cider has grown, so has the production of hard cider. In fact, cider production rose from 1.2 million gallons in 2010 to 2.5 million gallons in 2011. Washington state produced nearly two hundred thousand gallons of cider in 2011. That's a lot of cider!
In partnership with Washington State University and Northwest Cider Association, and funded by a Specialty Crop Block Grant from the WSDA in 2011, NABC is helping to boost Washington's emerging hard cider industry.
Funding supports NABC and partners to conduct cider research, provide education and marketing services, including the various cider courses taught by world-class industry experts:
Peter Mitchell of Mitchell F&D: Expert services to the cider industry.
Dr. Carol Miles, Washington State University - Northwest Research and Extension Center: Cider/fruit research and information.
Cider & Perry Academy: Source of information, training, advise and support available anywhere in the cider & perry industry.
National Association of Cider Makers (NACM): Promotes the cider and perry industry in the UK. It represents both larger producers and many hundreds of small-scale cider makers in the trade.
Through hard cider education, NABC offers a gateway for amateur cider makers to earn a NACM Certification from the National Association of Cider Makers. Learn more about upcoming Hard Cider Courses in the Courses and Workshops catalog, including:
Principles and Practice
Orchard Management
Business of Making Hard Cider
Business of Growing Cider Apples
Advanced Cider Making
This program funded in part by the Washington State Department of Agriculture Specialty Crop Block Grant Program.

Northwest Cider Association
NABC is helping to manage and grow the Northwest Cider Association, a trade organization formed by cider and perry producers throughout the Pacific Northwest to promote awareness of regional artisanal cider and perry. Hard cider is the fastest growing segment of the beverage industry.
Already recognized as an international leader for our abundant apple growing regions, the Northwest is also known for the cider apple research at Washington State University and professional cider workshop series managed by NABC. The workshops were launched under the leadership of WSU and feature renown cider expert Peter Mitchell from the UK. In addition to seminars, workshops and educational events for both cidermakers and apple growers, NABC is developing a framework to help manage the industry's explosive growth and help to establish a cider culture.
For more information, contact the Northwest Cider Association.
Additional Resources
Northwest Cider Seminar, December 15, 2012: The Cider Market & Industry slides
Thanks to a collaboration with Dr. Carol Miles of Washington State University, NABC and the Northwest Cider Association are selling cider apple scion wood harvested from the WSU Mount Vernon NWREC's cider research orchard. To view a list of varieties available and place your order, please visit the NWCA's website and look under the Events tab, or click here.