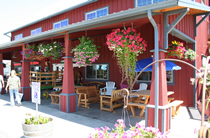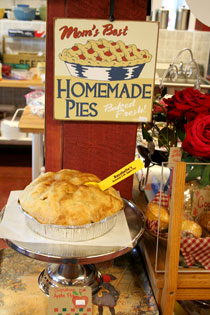 Located at the northeast corner of Farm to Market Road and Allen West Roads in Bow, Washington a jewel is waiting to be discovered. Rosabella's Garden Bakery and Gift Shop is an excellent example of successful direct marketing. Much more than a bakery and gift shop, Rosabella's provides fresh meals, espresso, locally-produced foods, gift items, freshly cut flowers and of course newly harvested apples during the fall season.
Rose and Alan Merritt, who own Merritt Orchards and grow some of the finest apples in Skagit County, started Rosabella's to supplement their income from farming. Competition from foreign and out-of-state products

had taken a toll on farm profitability and traditional marketing channels did not offer the profit margin necessary to sustain their farming operations. Rose had a vision and after six years of homework Rosabella's was launched in 2005. To house their new venture, Rose and Allan built a beautiful red barn on a well trafficked corner location of their farm property. The structure fits in perfectly with the farm community and is surrounded by gardens and orchards below beautiful views of Mount Baker.
As one nears Rosabella's by car the activity, bold signage and interesting displays entice the newcomer to pull into the lot and see what's going on. Before entering, displays of seasonal apples and bright flowers provide a colorful gauntlet that increases one's anticipation of what lies within. Once inside the door it's clear that Rosabella's is something special. Espresso drinks, sandwiches and fresh baked pastries are in abundance including Rosabella's signature, made-from-scratch five-pound apple pie. All food products are tastefully displayed in a spotlessly clean food service area and served with a smile and friendly word. The rest of the store contains a combination of packaged food and gift items that are tastefully merchandised and serve to draw customers in, grab their interest and persuade them to purchase.
Once people experience this charming and well-run retail establishment they're sold. There is a growing group of regulars who come in for coffee or lunch and to purchase apples by the box during the harvest season. The five pound apple pie has become a draw for distant customers who can only make it up on the weekend but order their pie in advance, "just in case" as they put it.
According to Rose, "turning the vision into reality was not easy; it requires constant attention and hard work but it has been rewarding." Future plans include new construction to offer an increased variety of local produce and an expansion of their U-pick operations. For farmers who may be considering a similar direct marketing approach to increasing profits, Rosabella's enterprise is a fine example of how to do it right. For those just looking for a relaxing weekend excursion, stop by the café and retail store for some homemade apple pie or pastries, a browse through the gift shop and warm hospitality.

Rosabella's Garden Bakery
8933 Farm to Market Rd
Bow, WA 98232
(360) 766-6360