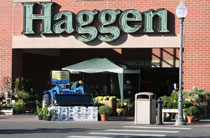 NABC has partnered with Haggen, Inc. to assist producers in product development and marketing. This effort kicked off October 27th, 2006 in Burlington with a New Item Authorization Workshop. The workshop is evidence of Haggen's strong commitment to purchasing local agricultural products. Michael Lobaugh, Vice President of Perishables for Haggen, Inc., was on hand to explain how they select new products for retailing through their Haggen and Top Foods stores.
Since the workshop, a number of local producers have prepared their products for the retail environment and presented them to the Haggen product managers for consideration. The grocery chain has selected a number of these products and is assisting in their successful introduction by promoting them with in-store, point-of-purchase materials, including videos. The Haggen-produced product marketing effort helps their customers understand that these products are grown locally and that purchasing local products sustains the local agricultural economy. Two additional marketing seminars are planned for the near future. The workshops will focus on successful marketing strategies and the financial impacts of business growth. Watch our web site,
www.AgBizCenter.org/retail/
for more details.